Today we have a review of Spark, and it will be useful for those who are looking for a replacement for the native email client. The fact is that the standard app on the iPhone lacks a lot of settings, and Spark is subjectively the best email client in the App Store.
The Spark app has an interesting history - it appeared in 2015 and was one of the many available alternatives to the native email client for iOS. By the way, at that time there was a peak of similar programs - the fact is that a wave of productivity has reached the CIS countries, and therefore all users were obsessed with improving their own performance, exploring different options for organizing the work process. Recall that it was a good fashion to use the Inbox 0 strategy when a user considered an e-mail as a task and deleted it as soon as it was done (or allocated it to the appropriate folder, leaving the Inbox empty).
Spark (download from App Store) - application that allowed you to tailor your email client to your personal productivity, but also had a number of interesting add-ons that you can and should apply to your everyday life. In 2019, Google stopped supporting several of its services, including Google Inbox and Google+. And Spark, of course, gained a second youth - at least this event should have increased the user base, since the Android version appeared in April of this year, and was specifically positioned as a replacement for Google Inbox.
What the perfect email client should be
When looking for a convenient email client for your mobile device, you need it to meet at least the following requirements:
Omnivore
Most users have several different mailboxes, and the application should be able to pick up not only personal mail on popular services, but also work mail (via IMAP).
Accessibility
The client must be free (or for a minimum price) and with localization.
Ease of use
It is desirable to have gestures, and also to be able to manage the list of letters with one hand. Minimalistic and intuitive design is welcome.
Customization
We don't need simple apps; the native iOS app does a great job with this function. So if the developers offer additional features like links to calendars or quick replies, it is always a definite plus.
As practice shows, not all of the available mail clients have all the qualities at the same time, and most of the questions are about customization and usability. It just so happens that Spark can do all of the above, which is why we recommend that you pay attention to it in the first place.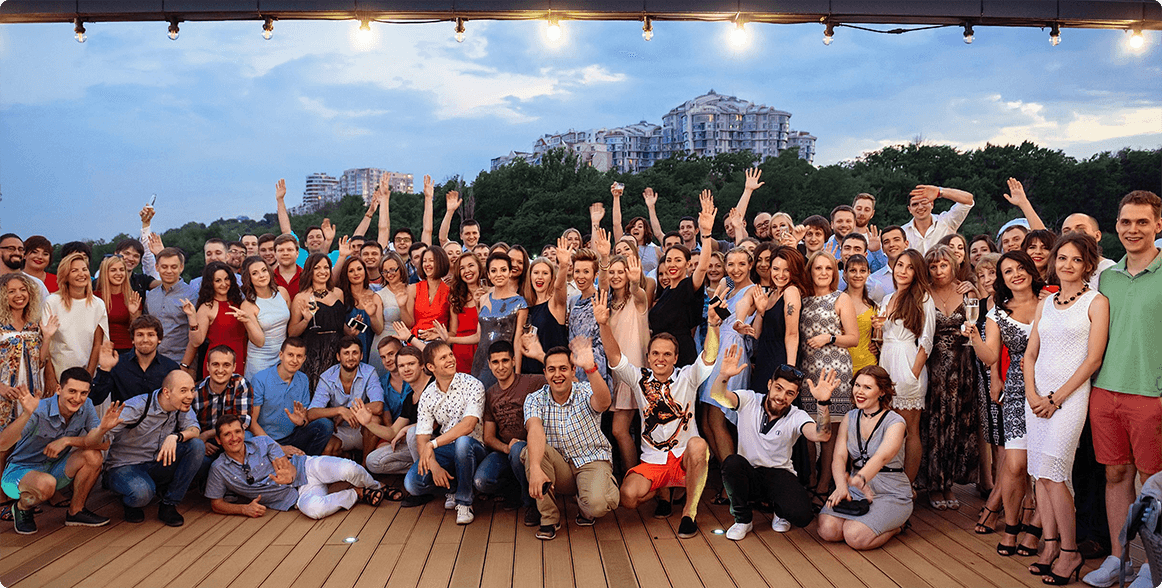 This is what the development team looks like
Another additional factor should be the fact that the developers (the company Readdle) are from Ukraine, right now there are 127 people in the team, and in addition to Spark they also worked on Scanner Pro and PDF Expert. Intuitive disposition is another factor in choosing an application, and it is always doubly pleasant for the CIS projects which are marked by the world editions. And most importantly - Spark is completely free, and the first few days of use
Spark review - the main features of the email client
Spark has a simple setup
When you first launch the app, it will make you spend some time on superficial customization. We step by step add the required number of boxes, push notification format, signature content (under each box, which is nice), commands to manage the box, shortcuts and widgets. This procedure will take 5-10 minutes, and most of the time is spent connecting the boxes. You can change these settings under "Settings" if necessary.
And the cool Smart Inbox
The app knows how to distinguish between newsletters and private messages. In normal mode, emails will be in chronological order (unless you use Inbox 0). In Smart Inbox mode, the app categorizes emails by belonging - personal, mailing, and pinned. This format is visually more convenient, and you can also perform certain actions with a group of messages - for example, delete or archive them.
Customization
Among other flexible settings, you can connect to your calendar and view necessary tasks via Spark. You can also put certain settings (gestures) on Smart Inbox, swipes and widgets - for example, if you do not use the archiving function and want a short swipe to delete an e-mail as well. You can also configure the algorithm of actions - exit to the main menu after deleting an e-mail or move on to the next one. As mentioned above, you can set up quick replies (like "Ok, let's sign" or "Let's discuss this later when I get back to the office") and signatures for each mailbox, prepare email templates, fully customize notification types (including for each mailbox), and so on. In short, we recommend you to look through the settings section at your leisure, you may be pleasantly surprised. For the especially picky there's even a chat room. If you are worried about your correspondence, you can additionally block access by password. And the app can connect with other productivity programs like Omnifocus, Things, or Todoist.
Convenience
The most subjective factor, but personally I liked that everything in the app is done conveniently. To write a new message, you need to press the button in the lower right corner (and you don't have to reach anywhere). There is also a button with a quick call calendar or reminders, but it is very rare to use. The search works pretty well, the button can be found in the upper right corner, next to it has a switch to Smart Inbox. The rest of the navigation is hidden in the "hamburger". All this can also be streamed to the Apple Watch, there the app looks very nice.
Reviews of Spark - what I didn't like
Design
To be honest, it's a little weak and looks a little heavy. Even the native iOS app looks much easier. But to be honest, I can't offer to change somehow, there is an internal non-acceptance of the appearance at some intuitive level.
Security
One user complained that Spark was storing email passwords. Testimonial is relatively fresh, so keep in mind - there was no comment from the developer.
And here's that comment
I've been using Spark for about three years now, and so far I haven't had any desire to switch to anything else or look for a replacement. That is why I recommend you to try it as well.
I have been writing reviews of mobile games since 2011. I am actively involved in the development of mobile eSports, commentating on Auto Chess, Clash Royale, PUBG Mobile matches. If I like a game, I like it for a long time and study it thoroughly. And share my thoughts with everyone!