Asphalt 9 according to the editors of apps4.life entered the Top 5 best mobile games for iOS in 2018 and received a well-deserved portion of flattering reviews - Gameloft continues to set trends in the mobile gaming industry, but remains a role model. We don't know how they do it, but every year the Asphalt series becomes if not the best racing simulator in the App Store, then at least one of them. And if you want to play a little better, we've prepared a little guide to Asphalt 9 especially for you (Download from the App Store), in which we will try to tell the chips and give tips on the game.
The best cars in Asphalt 9
Any rating starting with the phrase "the best..." is extremely subjective, and as a consequence - actively discussed. Here is a list of cars, which in the opinion of the editors can be considered the best in their classes (according to the rating "price - quality - availability"), optimal for network races, and for farm.
D-class
Chevrolet Camaro LT is an iconic car (thanks Transformers), which happens to be very quick to pump in the game, has good handling and maximum speed. Thanks to the incredible availability of maps is pumped to the maximum almost the very first, at the very beginning of the game focus on it.
Megan Fox and the Camaro "on minimums"
C-class
The Lotus Evora Sport 410 is probably the best car in the class, as its maps are very much in Career mode. It has just wild acceleration, but weak control at high speed, it is strongly felt on the track, especially if you choose tap control. That's why you should choose maps with more straight sections (or alternatively, less sharp turns).
It can then be moved to the Mercedes AMG GT S, the car has better speed and acceleration, but with the handling (as strange as it may seem). The car falls in the daily promotions (on Tuesdays, but to get the cards need Dodge Challenger SRT8, keep in mind), pumping will not be difficult.
Rezvani Beast X - a great car that comes for free, but the rating is worse than the Dodge Viper ACR. So as soon as you open the "beast" (for passing career), immediately move to him and try to open the Dodge, it is the best car in class.
B-class
The obvious option is the Porsche 911 GT, because the cards for it are farmed on daily promotions. The car is very sharp, with good acceleration, but the handling, again, suffers.
Focus in this class is better on the "mythical" Ferrari 488 GTB, because it is slightly more affordable than the "legendary" F12tdf (in terms of rarity of cards, of course). Both will have to be bought in the store, so it needs to be checked every day, but is given a lot of cards to buy.
A-class
The most affordable car is the Aston Martin Vulcan, that's what you should focus on. Other cars without donation will be simply impossible to open, so we won't even say anything about the S-class.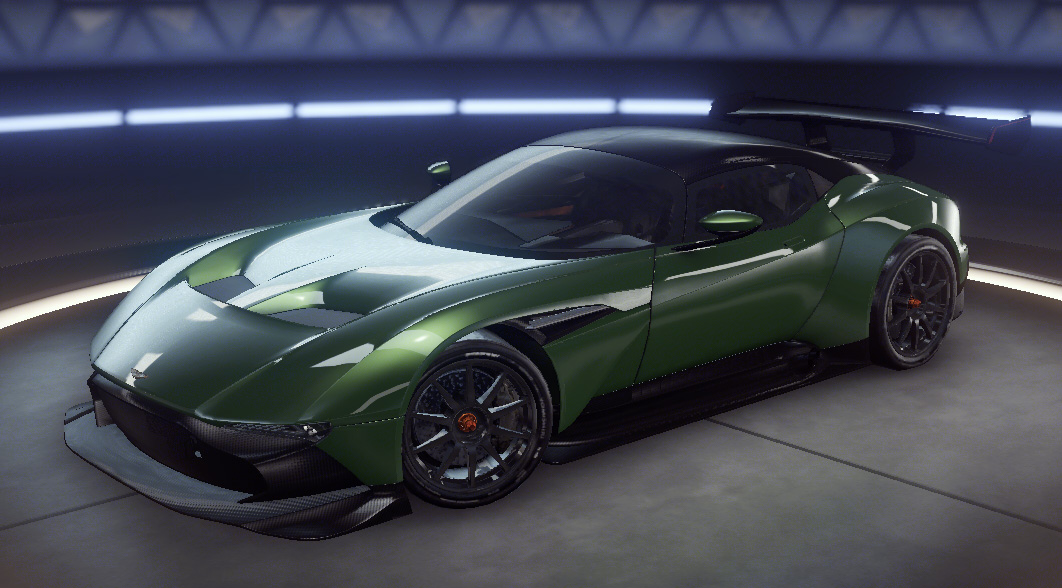 This is what the Aston Martin Vulcan looks like in Asphalt 9
By the way, if you happen to be interested, there is a Youtube-account of a foreign racer, who puts up records of passing the tracks for time, it is quite interesting:
How to get cars and parts fast in Asphalt 9
Let's start with the fact that any Gameloft game (and, in fact, any freemium game), including Asphalt 9, allows you to get any car for free. True, the user will have to either pay real money or spend a very long time in the game - the second option means a daily routine, and you will farm, farm and farm again (from the English "farm" - farm, "farming" - agricultural game slang, referring to obtain valuable items through the long and tedious execution of the elements of game mechanics). Of course, you can farm mindlessly, coming into the game in your spare time from work / study / vacation, but we recommend to approach the boring process with knowledge:
Free package with parts opens in the store every 4 hours, and ideally you can open 6 packages per day (which is 1-3 cards with cars or parts)
Daily promotions offer unlimited possibilities, because you can get cars, parts, tokens and, of course, credits.
a) "Daily Autotrophy" allows you to forage for a Chevrolet Camaro (D-class), Nissan 370Z (D-class), Dodge Challenger SRT8 (C-class), Porsche 911 GTS (B-class), Aston Martin Vulcan (A-class) and Lamborghini Centenario (S-class). Which parts you need is up to you.
b) Class Cup - Depending on the day you enter, different maps are given for different cars. See the list above and compete.
c) Weekly competition - you have to show the best time to get to the top and get credits and tokens, as well as a chance for imported parts. It is not difficult to get to the top-25%, but it is recommended to switch to automatic control.
For the rest of the events do not pay attention, they become interesting only when you put together a decent garage.
Multiplayer followed by a place in the league. It is important to secure a league position of at least Gold in order to get a good reward at the end of the week. And earn points on a scale - so you can earn one packet a day, the contents of which are identical to a packet for 65 tokens, and that's very cool.
Watch commercialsFor which you get a package, you can watch a total of four videos. It's a small thing, but it's nice.
How to spend credits and tokens in Asphalt 9
Let's start with the obvious: credits are coins, and tokens are what should intuitively be called credits, that is, the analogue of currency for real money. It is better to spend credits on blueprints for cars, which will be useful in the near future, see the list of the best cars above. Tokens should be spent on boxes with random drawings, this is more profitable than redeeming packages point by point, and spend it on 10 packages at once, not on 1. After you fill the garage by two-thirds, stop spending tokens on nonsense and start spotting rare cars.
And finally, a little video review of Asphalt 9, in case you missed it:
I have been writing reviews of mobile games since 2011. I am actively involved in the development of mobile eSports, commentating on Auto Chess, Clash Royale, PUBG Mobile matches. If I like a game, I like it for a long time and study it thoroughly. And share my thoughts with everyone!