The other day we came across an extraordinary app called Mug Life, which creates insanely funny memes based on a photo with a face. It's very funny, and all you need is one picture of one or more people.
Download Mug Life free from the AppStore.
What kind of game is this and why is it everywhere
 A few weeks ago, back in late October, the developers of Mug Life presented the final version of their strange service at Product Hunt. The developers say that the service's mobile app has been in closed beta testing for quite a long time - at least six months. But now everyone can try it.
Mug Life is able to analyze photos, find human faces on them and animate them with high accuracy.
The developers are using this opportunity for good purposes - they decided to make the whole world laugh. To do this, they even created an entire social network in the manner of Instagram. Now users share animated mimes with crazy grimaces through it. And it's painfully funny.
How to make an animated meme with Mug Life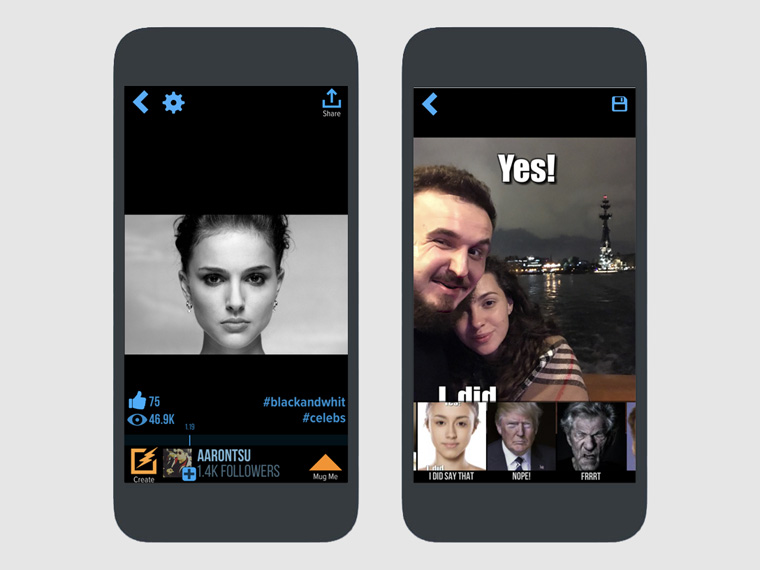 Working with the service is simple as hell. First you need to upload a picture of your face. Then the program will analyze it and offer to choose one of the blanks.
There are ten ready-made presets. They represent popular media characters with captions: the disgruntled Pope, the insidious Joker, and so on.
When you choose the preset you like for your picture, you can save the result to your gallery, copy, share on social networks, and so on.
The service will intrusively invite you to share a photo directly through it. This is sometimes even annoying. More than sure you don't want to share your photos processed in Mug Life with the whole world.
Mug Life works through neural networks
The technology for facial detection and further animation has been under development since 2015. A couple of developers from Austin, Texas - Rob Cohen and Thomas Coles - worked on it.
Before that, they were developing video games. And it is very noticeable, because the resulting grimaces look like animations of characters from electronic entertainment from the last century.
They used today's popular neural networks to create the service. They taught them to detect a face in a photo and divide it into key areas.
If you smoothly change the position of the base points of the face in the image, you can animate it. And in a very good way. You can play with your own pictures, or pictures of your friends or celebrities. And we recommend you give it a try.
Hello! I am the founder of Apps4Life. It started as a hobby, but turned into a great and useful project that helps people get acquainted with the digital world of mobile games, add-ons, webservices and crypto-industry.